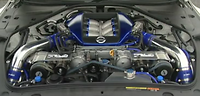 Power Enterprise has developed a twin turbo twin supercharged R35 GTR developing some 700HP. The standard IHI turbos have been maintainted and a pair of Rotrex C30-94 Superchargers have been added to provide additional low down torque.
Debuted first at Tokyo Auto Salon winning the 'Best Modified Car' award, we expect the full kit to be available from Power Enterprise shortly. Contact Us and we can confirm availability and pricing details.
Read more to checkout a video of the GTR from YouTube.