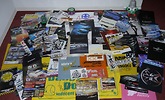 We're back at work after a big weekend at Tokyo Auto Salon 2010. One of the popular past times of show-goers is the collection of catalogs, spec sheets, stickers and anything else that is on offer. 
Please drop us a comment if you'd like more detailed photos of any brand brochures or if you don't spot your favourite, most likely we have one!
Read More for detailed photos of the brochures..