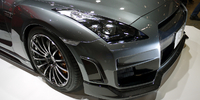 The Nissan GTRs and Fairlady Zs were out in force at Tokyo Auto Salon 2010 from all the top tuners. We managed to battle through the crowds and get a few photos.
The GTR's ranged from the new Silver Wolf body kit from Tommykaira to the circuit focused HKS GT600. The 350Z's are becoming less common with the 370Z's picking up most of the attention, our favourite being the Amuse 370 Vestito kit.
Rear More for the photos and more from Blitz, Varis, Wald and others..