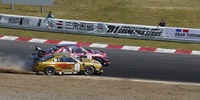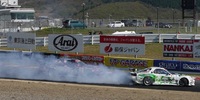 The second round of the Japanese D1GP championship was held at the Autopolis International race track in Kyushu. Local to the Nengun offices in Fukuoka, we made the trip in the Nengun R35 GTR in record time on the Expressways and winding mountain roads for a great day with the best drifters in Japan.
The Autopolis circuit differs from many other drift events with an initial entry speed of 200km/h into the first corner which is too much for many. Orido's Supra was severely damaged in initial practice and could not compete. Suenaga in his FD3S RX7 ended up winning the day, our friend and hometown favourite Nomuken finished in a respectable 4th place.
Keep reading for more photos from a great day in Kyushu. We have more photos and information on our Facebook Fan Page.