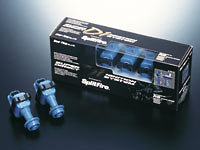 Having trouble with misfires or hesitations under boost? Cracked coil packs are one of the most common causes for issues on aging Nissan Skylines and Silvias.
We have 45 Splifire Coilpacks at heavily reduced prices on sale for a limited time. We have the following available at the lowest prices we have ever had available:
SF-DIS-001
Nissan Skyline HCR32 & R32 GTR
Nissan Skyline ECR33 Series 1 &  R33 GTR
SF-DIS-005
Nissan Skyline ECR33 Series 2

SF-DIS-004
Nissan - Silvia/180SX - PS13/RPS13
Nissan - Silvia - S14 & S15


SF-DIS-007
Nissan - Silvia - S15
Purchase in the next 36 hours to guarantee the lowest prices ever available for the popular Splitfire Direct Ignition System.